ESTENOPEICAS RURALES
Restitutions of the memory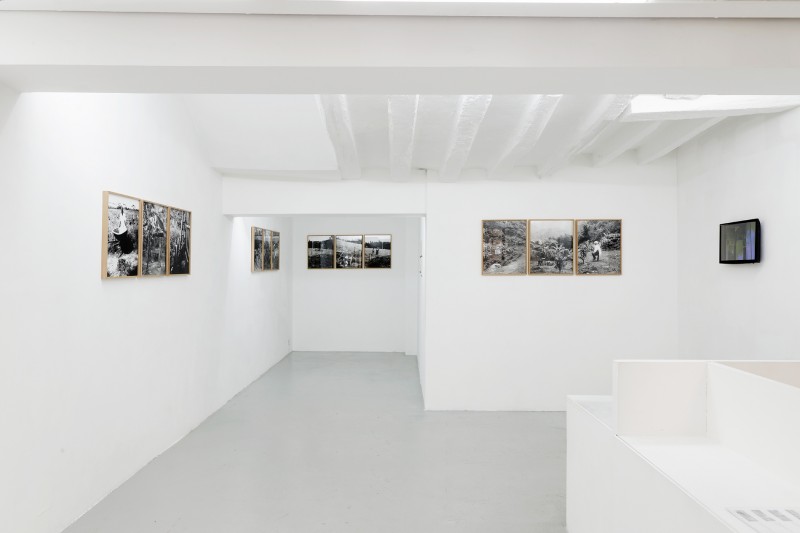 Opening on Saturday, October 10th from 6pm to 9pm
10.10 – 28.11.2015
_____________________
In his second personal exhibition at the Dohyang Lee Gallery, Marcos Avila Forero presents his new project
Estenopeicas rurales – Restitutions of the memory
, realized in Colombia.
Since its origins until the contemporary protests, the social civil and armed conflict in Colombia is strongly connected to the needs for viable agrarian policies for the farmer populations. In this context, some regions became the main theatres of peasant struggles, since the historic era of
La Violencia
until now. In close collaboration with the local population, the artist transformed several families' farms of these regions, which were or continue to be spaces of revolt, militancy and sometimes clandestinity, into a
camera obscura
. Every house, as a huge camera, catches on a large scale the cultivated landscapes and the mountains. The obtained black and white images evoke archive images tying the link between history and the current situation.
On the ground floor of the gallery five huge pinholes – triptychs of this series will be exposed.
On the lower level we can (re)discover two works recently acquired by the FNAC (French National Contemporary Art Collection) and the FMAC (Contemporary Art Collection of the City of Paris) which testify the artistic approach of Marcos Avila Forero, based on meeting with people, a place, a story, and trying to tie the lost threads between ancestral traditions and contemporary practices. In the video Atrato (2014), the artist suggests the Afro-Colombian local residents, of the river of the same name, one of the main arteries of the armed conflict in Colombia, they reclaim a lost ancestral tradition consisting in using the river as a resonance chamber (drum instrument). In this contemporary version, through gestures and musical tones, this group of percussionists evokes and exorcises the experience of the habituation with the violence of the armed conflict. For his project Alpargatas de Zuratoque (2013), the artist worked with families moved by the armed conflict in Colombia. He suggested them writing their story on jute bags which then served to make traditional weaved shoes for the peasants.


Marcos Avila Forero (*1983) works in Paris, in Colombia and according to his many journeys. After being graduated (with the congratulations of the jury) at the ENSBA Paris, he exposed in the Palais de Tokyo (prize-winner of the Discovery Prize of the Friends of the Palais de Tokyo in 2012) in the art centre of La Passerelle in Brest and in the Castle of the Adhémar in Montélimar. On the same time as the exhibition in the Dohyang Lee Gallery, we can see his personal exhibitions in the art centre of CAIRN in Digne-les-Bains (from October 16th till November 30th, 2015) and in the Camille Lambert Contemporary Art Space in Juvisy-sur-Orge (from November 14th till December 18th, 2015).
The video Atrato (2014) is also part of the exhibition Tout le monde at CREDAC in Ivry-sur-Seine (until December 6th, 2015).



Maya Sachweh
………………………………………………..

73-75 rue Quincampoix 75003 Paris France
Tuesday – Saturday 11 am – 1 pm // 2 pm – 7 pm
tel : +33 (0)1 42 77 05 97
www.galeriedohyanglee.com




………………………………………………..