LES SOEURS AIGÜES DU GRAND COLORIAL
NATALIA VILLANUEVA LINARES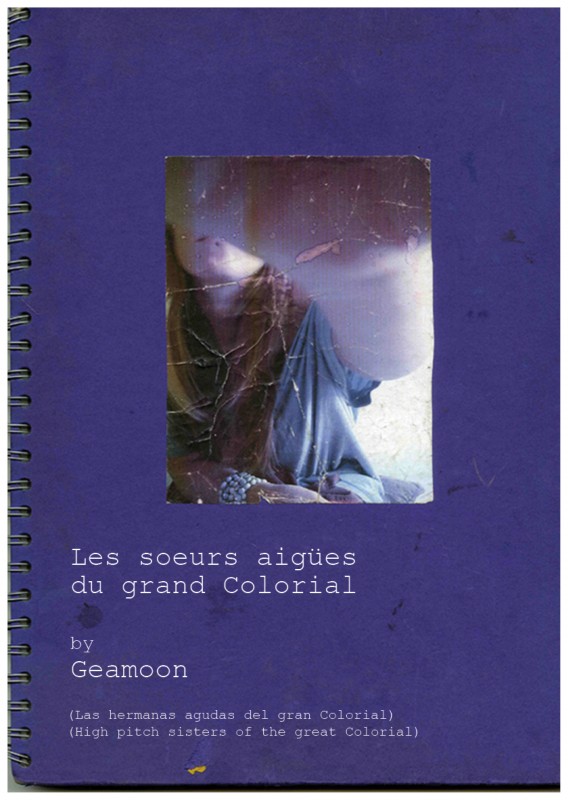 Opening on Saturday March 15th from 6 pm to 9 pm
15.03 – 26.04.2014
_____________________
Geamoon (Natalia Villanueva Linares), born in 1982, is a French-peruvian artist, graduated from the ENSBA. She lives and works in Paris and Peoria, ILL (USA) where, since 2011, she transforms an abandoned church into a cultural center.
Exhausted materials: ashes, dust, powders, and others travel through the work of Geamoon; they are shared as traces of objects that she will not let us see. Her exhibition, mysteriously titled, "The High pitch sisters of the great Colorial" does not escape her constant oscillation between revelation and concealment.
We would be deeply mistaken if we would try to find in the objects used by the artist – needles, thread spools… – a sign of a passion for homemaking; these materials are all primarily reflections on loss, repetition, and accumulation. In Sister n°0, focusing attention on the fragile, fine materials, seemingly of grand simplicity, she tries, in a balancing perspective, to combine the progressive stripping of spools, towards the colorless heart of wood or plastic, with the the unveiling of their cottony substance. Undoing what has been done, she patiently redefines; cutting after cutting, strand by strand, a new history is written as the little things are slowly exhausted.
The idea of reading is also at the origin of High pitch, whose title refers both to the threading of needles in the creation of the work and the subdued violence they imply. On the blank journals pages, words have been stitched by the artist, aided by thousands of metallic needles, those usually used to sew on a button. All the similarities and all the differences, each pierces the light and frail-looking paper; stitch after stitch the paper curls and carries on unspoken. By their sides, a little metal box presents the epilogue of High pitch: hundreds of quarrelling needles, seemingly untidy, are waiting to reinvent the story that is written here, without spool or seam.
Boxes occupy a special part in the works of the young artist; she does not hesitate to hide her work away from her own view, locking up her Mood/Bad/Drawings in wooden cases once completed. In the exhibition, Sisters 1-10 also plays with our ability to accept the unseen; from each colored metal box emrges about ten colored threads uniting above at one unique point. At eye level, no spool can be seen; Geamoon is undoubtedly a sorceress, she is one who cuts silk threads in front of our eyes only to return them to us as whole, and leaves them to unwind endlessly.
Camille Paulhan, translated by Lrae
_____________________

73-75 rue Quincampoix 75003 Paris France
Tuesday – Saturday 11am – 1pm // 2pm – 7pm
tel : +33 (0)1 42 77 05 97
info@galeriedohyanglee.com
www.galeriedohyanglee.com
www.fb.com/galeriedohyanglee.paris