Available artworks list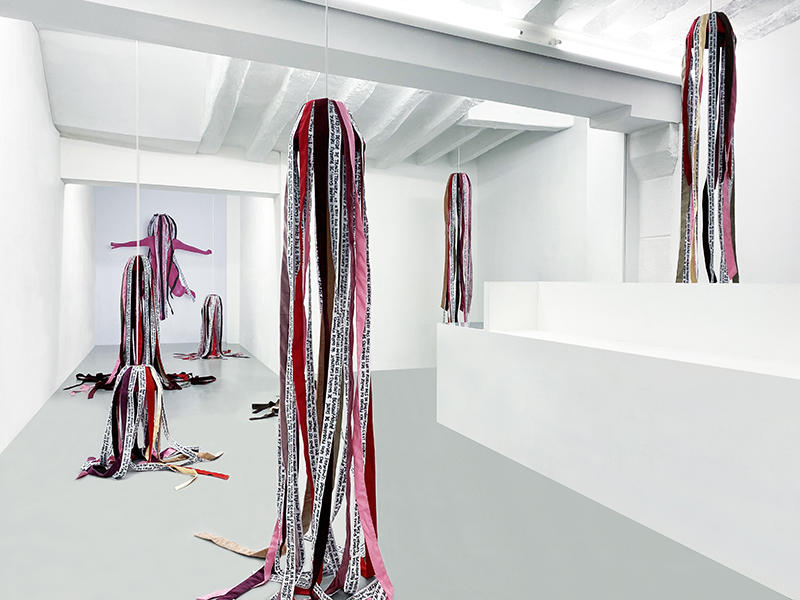 11.03 – 15.04.2023

Performance O Child at 6 pm 30



There is no love story that isn't political, neither is there a struggle that isn't intimate. Five years after Hinterland at the Dohyang Lee Gallery, Violaine Lochu shares her personal story once again to reflect upon the metamorphoses initiated by traumas and the forms of care that respond to them. There is a calendar coincidence in this new exhibition, entitled "1987", the year she was born, and which starts on her birthday, as if to echo the regeneration she places at the horizon. But where her first solo exhibition implemented an introspective vision, supported by her body and the cancer inside it, 1987 puts on stage a relationship with others, tested from her own suffering and its painful memory. The three projects presented here (O Child, Battle and Xóvíví) share the articulation of autobiographical elements with an aesthetics of care or the catharsis laid down in response to this "hollow" presence, whether a lover in a faraway country, the child one will never have or the phantoms of colonial past. To elude the violence of absence and lack, to fill in the cavities that haunt beings down to the bone, Violaine Lochu gives floor to the understated voices that resonate with their tales of life in the form of collected words translated into sound poetry, love letters transformed into drawings, and a decolonial post-memorial ritual. Those who have not been listened to find here, in art, the means of escaping, which applies for the reinvention of self, a way of surmounting their traumatic feelings.
Florian Gaité
Translated in English by Emmelene Landon
Violaine Lochu wishes to thank all the participants for her projects O Child and Battle
Her collaborators ;
Christophe Hamery — graphism, title, writing, flyer photo
Baptiste Joxe — sound engineering
Rachael Woodson — exhibition photos
Spero Djivo — technical assistance
Atelier Hervé/ Cotonou — sewing assistance
Makoto C. Friedmann — video
Céline Régnard — make up
Jean Fürst, Cathy Gringelli, Nicolas Iarossi — performers
The team of the Musée National Pablo Picasso de Vallauris, Gaïdig Lemarié, Anne Dopffer, Carine Bouey, Florian Gaité, Julie Crenn, Jean Fürst, Francesco Pastacaldi, Valérie Vivancos, Mélanie Gourarier, Gheorghe Ciumasu, Claire Luna, Chloé Breillot, Aurélie Denis, Pascal Lièvre, Valérie Sonnier, Marie M, Myriam Jacquey, Inès Yabo Feliho, Sénami Donoumassou and Caroline Renson
………………………………………………..

73-75 rue Quincampoix 75003 Paris France
Tuesday – Saturday 2 pm – 7 pm and with rendez vous
tel : +33 (0)1 42 77 05 97
www.galeriedohyanglee.com