You are here: Home // Natalia Villanueva

This content is password protected. To view it please enter your password below: Password:
Read More →

LES SOEURS AIGÜES DU GRAND COLORIAL NATALIA VILLANUEVA LINARES Opening on Saturday March 15th from 6 pm to 9 pm 15.03 – 26.04.2014 _____________________ Geamoon (Natalia Villanueva Linares), born in 1982, is a French-peruvian artist, graduated from the ENSBA. She lives and works in Paris and Peoria, ILL (USA) where, since 2011, she transforms an abandoned church into a cultural center. Exhausted...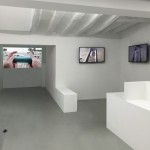 ZOOM – Projection III Les Fileuses (The Spinners) with Clarissa Baumann, Minia Biabiany and Natalia Villanueva Linares Opening on Saturday, January 28th 2017 from 6 pm to 9 pm 28.01 – 25.02.2017 _____________________ " Parcae, announce his fate… " For this exhibition, we would like to listen to the famous trio from Hippolyte and Aricie 1. There is a strange chance between the...