Kamionass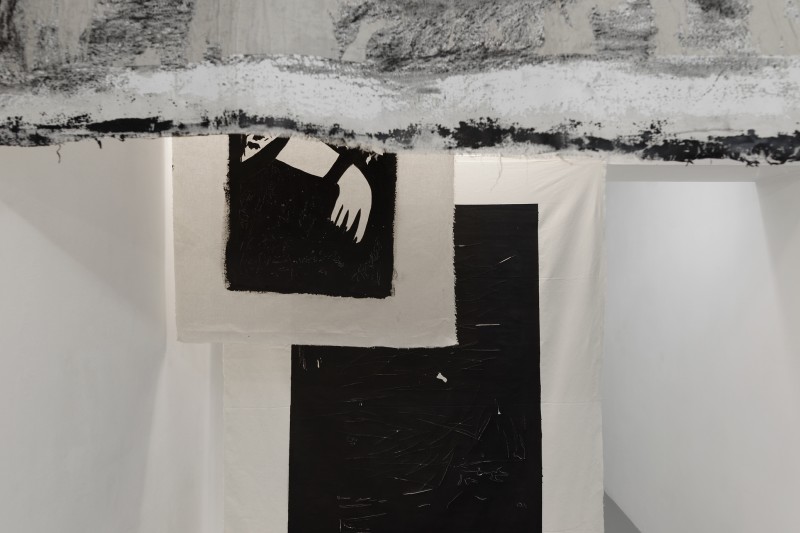 Opening on Saturday, March 25th 2017 from 6pm to 9pm
25.03 – 29.04.2017
_____________________
Your paintings are stuck, you are stuck! Stuck! Stuck! Stuck!
Tracey Emin
You do not draw ! You scratch the paper!
C.C.
But that's what exhibitions were for : to say something new, and say it eloquently. Society was for saying something old – predictable, throwaway, offhand – which would not startle the auditor. (ONLY SAVAGES BLURTED OUT WHAT THEY FELT.) Exhibitions were for saying – I confess, I admit, I must avow. Exhibitions took a long time to arrive, which encouraged their recipients to hope that in the meantime the artist's misfortunes had eased.*
Paula Castro
(Buenos Aires, 1978) lives and works in Buenos Aires. Among her individual exhibitions we have BOZAR, Brussels (2015); Metrónomo en FNA, Buenos Aires (2015); MACsa, Salta, Argentina (2015); ARCOmadrid, ARTIST FOCUS, Galerie Dohyang Lee (2013); Museo La Ene, Buenos Aires (2012); Galerie Dohyang Lee, Paris (2012); Mite Galería, Buenos Aires (2012); Flux Factory, New York (2009). She participated in collective exhibitions at Tabacalera, Madrid (2017), curated by Mariano Mayer and Sonia Becce; Museo de la Ciudad, Buenos Aires (2016); UTDT, Buenos Aires (2015), La Ene en Malba, Buenos Aires (2014); Galería Maisterra Valvuena, Madrid (2013) and IrmaVepClub Reims, France (2008), curated by Anja Isabel Schneider. She also curated several exhibitions as
Joven Talento Homosexual
by Dudu A. Quintanilha, Mite Galería, Buenos Aires (2013). She participated in
Programa de Artistas de la Universidad Di Tella UTDT
, Buenos Aires (2015).
* Modified text from the book El amante del Volcan by Susan Sontag. In the original text, the word "letters" replaces exhibitions. p. 288

" SALUB " Installation in SILENCIO


PAULA CASTRO



Opening on Saturday, March 25th 2017 from 6pm to 9pm through invitation
25.03 – 29.04.2017




Open on Tuesday until Thrusday from 6pm to 4am
Friday and Saturday from 6pm to 6am
142 rue Montmartre 75002 Paris




………………………………………………..

73-75 rue Quincampoix 75003 Paris France
Tuesday – Saturday 11 am – 1 pm // 2 pm – 7 pm
tel : +33 (0)1 42 77 05 97
www.galeriedohyanglee.com




………………………………………………..